Teddi's Recovery: Days 3 and 4
Day 3
As you are all aware, Teddi has been moved 'down' to ICU2, meaning she required less intensity of care. A good step in the #HealingTeddi direction. She also lost another wire, with the epidural coming out. In this transition, her pain was well managed, which was a concern - so glad that went well! She was also able to resume her follow-up chemo treatments, which put the chemo into her abdominal space. This was chemo treatment 2 of 5, and a blood transfusion made it possible - this made me conscious of a much needed thanks to everyone out there who gives blood!
When I arrived today, Teddi was sitting up a chair and talking on the phone with her brother, which was a great encouragement for her. I also noticed that she had started sending some text/facebook messages out - another encouraging sign of recovery. Marching down the recovery route, we also received the go-ahead from the ICU doctors for Teddi's reflexology treatment #1. These made a tangible difference last time, and we are very glad to have Verena back on the job! (If you are coming to St. George for a peritonectomy surgery, I highly recommend these from about day 3 or 4 onwards). She will have these every other day for the remainder of her stay in the hospital, thanks to all of you!
Thanks to the reflexology and our awesome nurse, Teddi was able to get some very good rest/sleep on recovery Day 3 - which was really needed more than anything else!
Day 4
When I came into visit Teddi on day 4 of recovery, she was finding chemo treatment 3 of 5 quite tough. These treatments can be quite uncomfortable due to the volume of fluid in the abdomen, pressing in on all those organs that just saw some trauma. This has caused some nausea, but the nurses have been on top of the meds, keeping it to a minimum.
On Day 4, two friends came to visit, which lifted her spirits. I asked them to keep the visit short, and at ~20 minutes, and that worked out very well. I think that 2 minutes feels like 10 minutes for her in conversation at the moment! These lovely folks also brought some much needed survival tools including an eye mask and ear plugs! Thanks heaps!
The main reason for their visit was to bring Wyatt up to Sydney from Canberra. Wyatt just wrapped up his one week stay with family friends in Canberra, and it has been a big week for the little guy! But he has kept his appetite and it is clear that he enjoys all of the 'new' toys and experiences such a week brings. He has had all sort of extra care and kindness from his friends, teachers and families from his school. We appreciate that very much!
Obviously this whole cancer treatment process is a big event for a four year old boy. I've been working on the explanation for what was going to occur for the past ~10 days. I've explained to him from the start that momma had some 'bad things in her tummy' which were a 'disease' and that the doctors were going to do some 'hard working' (a term he uses for focusing!) and get them all out. But this meant momma was going to be in the hospital for awhile and that he needed to go to a friends house for 6 sleeps. After that, he'd get a car ride up to Sydney to be back with Ma and Da!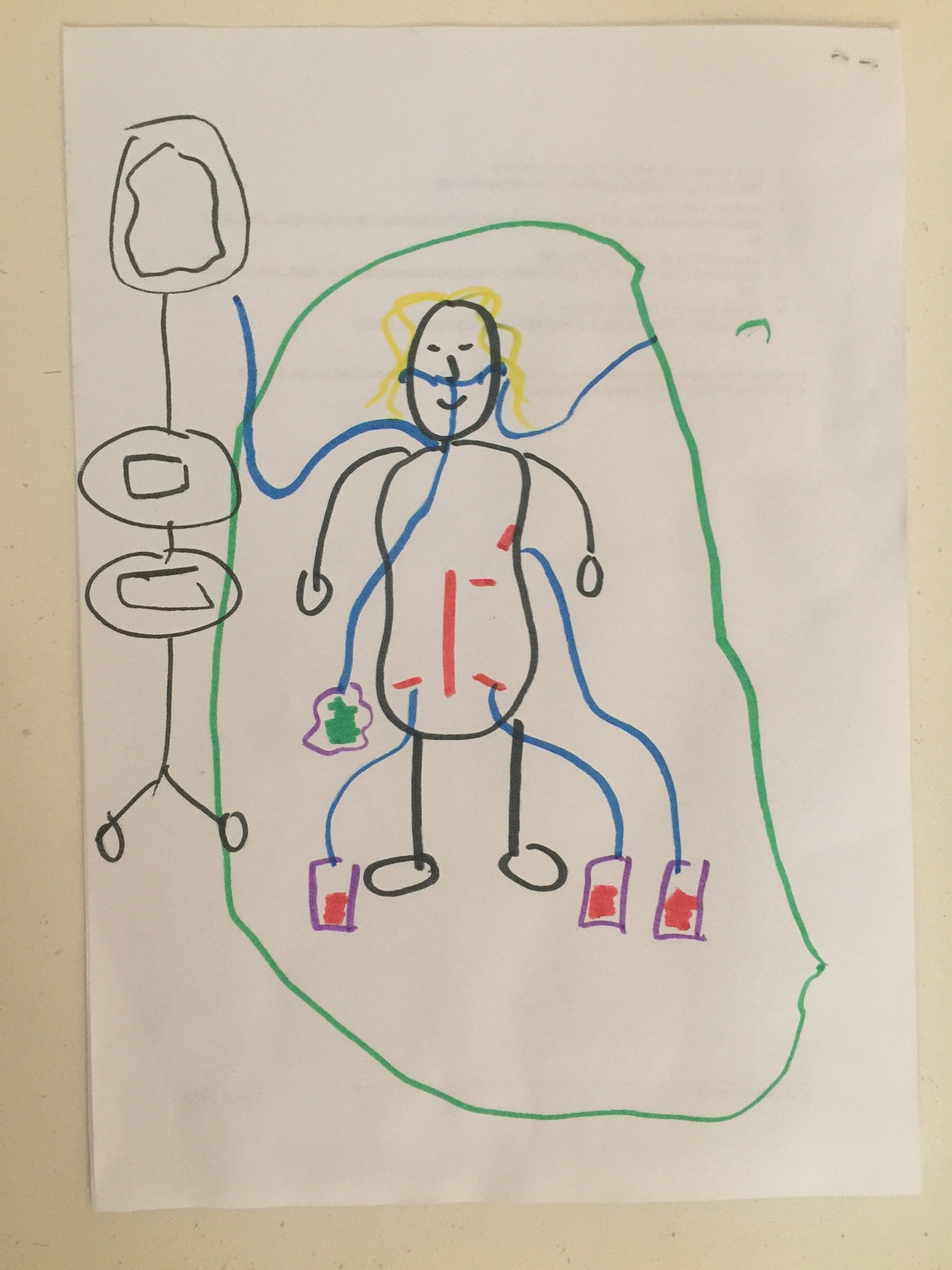 Now, Teddi is still in quite the state. I think she still has about 8-9 connections still in place, including some drains with some very interesting colors coming out. So this needed some prep! I gave this some thought, and before his visit, I decided to work with him on drawing a picture of what Momma would look like. I also showed him pictures I took of the hospital room, machines and his momma sitting up in her chair. This seemed to really help. When we arrived, instead of being overwhelmed, he was confident and walked right in with his little gift bag. Right away, he was already explaining what all the connections and machines were! The only mistake I made was forgetting his toy doctor kit at home! He was asking for it straight away!
Needless to say, Teddi was very happy and relieved to see him. He took her some pictures that he drew, and made friends with all of the doctors and nurses (he had them giving him chocolates nearly straight away). There were even some police officers there for him to interrogate - he made sure they knew that they needed to 'drive really fast to catch the bad guys'.
That's all from us today. Right now, what Teddi needs is the strength to get through these last two chemo treatments - so aim encouragement in that direction. We'll have a quick uphill climb ahead once she gets through these. We should get #4 of 5 in today - if all goes well! I'm off to visit her soon.
Last thing, Wyatt is headed to a friend's house in Sydney for a birthday party today! If there are any family friends Sydney-side over the next 2-3 weeks, let me know if you can help out with Wyatt for a few hours.
Much love
-Nick-