Teddi's Recovery: Week Two
Hello friends and family! We have now made it through two weeks of hospital time since Teddi's surgery on 10 October. Moving on from my last update, we've had heaps of progress in her recovery. She has had a steady removal of all of her tubes, wires & miscellaneous connections at the rate of about 1 per day. Out have come the neck ports, catheter, chest & abdomen drains, the drug button (PCA), the liquid nutrition... on & on it goes! :-)
She's now had the X-ray scan of her stomach to check for any leaks - and the test was negative! So she has been able to have that evil NG tube removed, and transitioned through liquid & then onto solid meals! Hooray! This also means that she's switched over to taking her medications orally, instead of via an IV. All of these things are small steps in the right direction - towards getting discharged from the hospital!
With the reductions in wires and her increasing intake of solid foods, we have seen daily progress in her strength and energy levels. Teddi's spent some of that energy exploring the hospital, finding quiet spots to relax and even spending some time outside in the glorious Sydney spring sunshine. This has enabled longer visits with our four-year old son Wyatt. They've become quite the master duo in building lego & advanced colouring projects!
It hasn't been all positive over the past week, with one minor setback: a low grade fever and re-insertion of a canula for IV antibiotics (#sadface), but you'll be happy to know that as of yesterday, she was back on track! Only 2 short days of a little extra help were needed - it looks as if we avoided the major setback an illness or infection would have entailed, phew!
Given all of this excellent progress, we anticipate she'll be coming back to Bezzina House (where Wyatt and I are staying, across the road) in the next 1-2 days! Hooray! We can't wait to have her back in our little life & out of the sterile, crazy hospital ward.
Some updates from Teddi over the past week: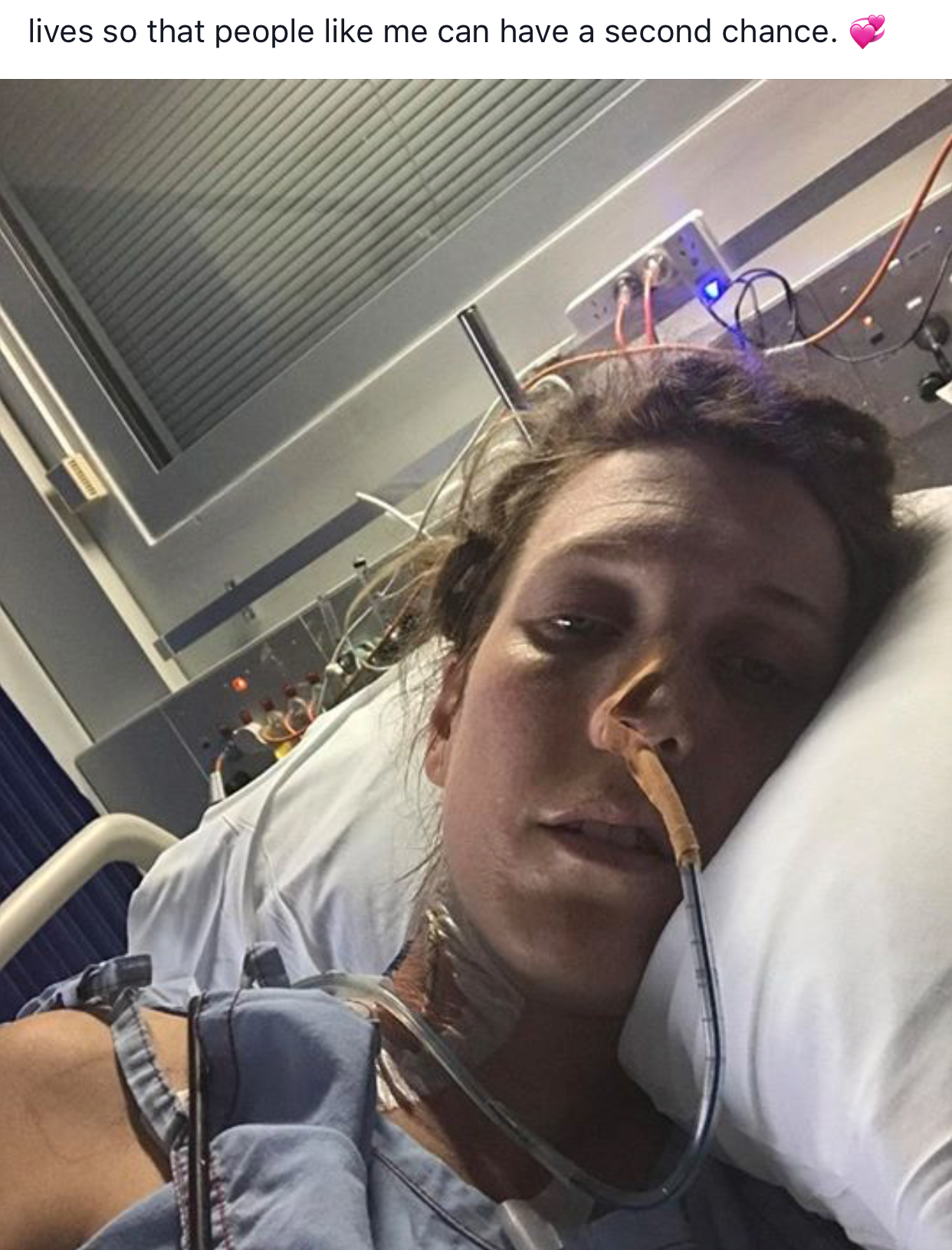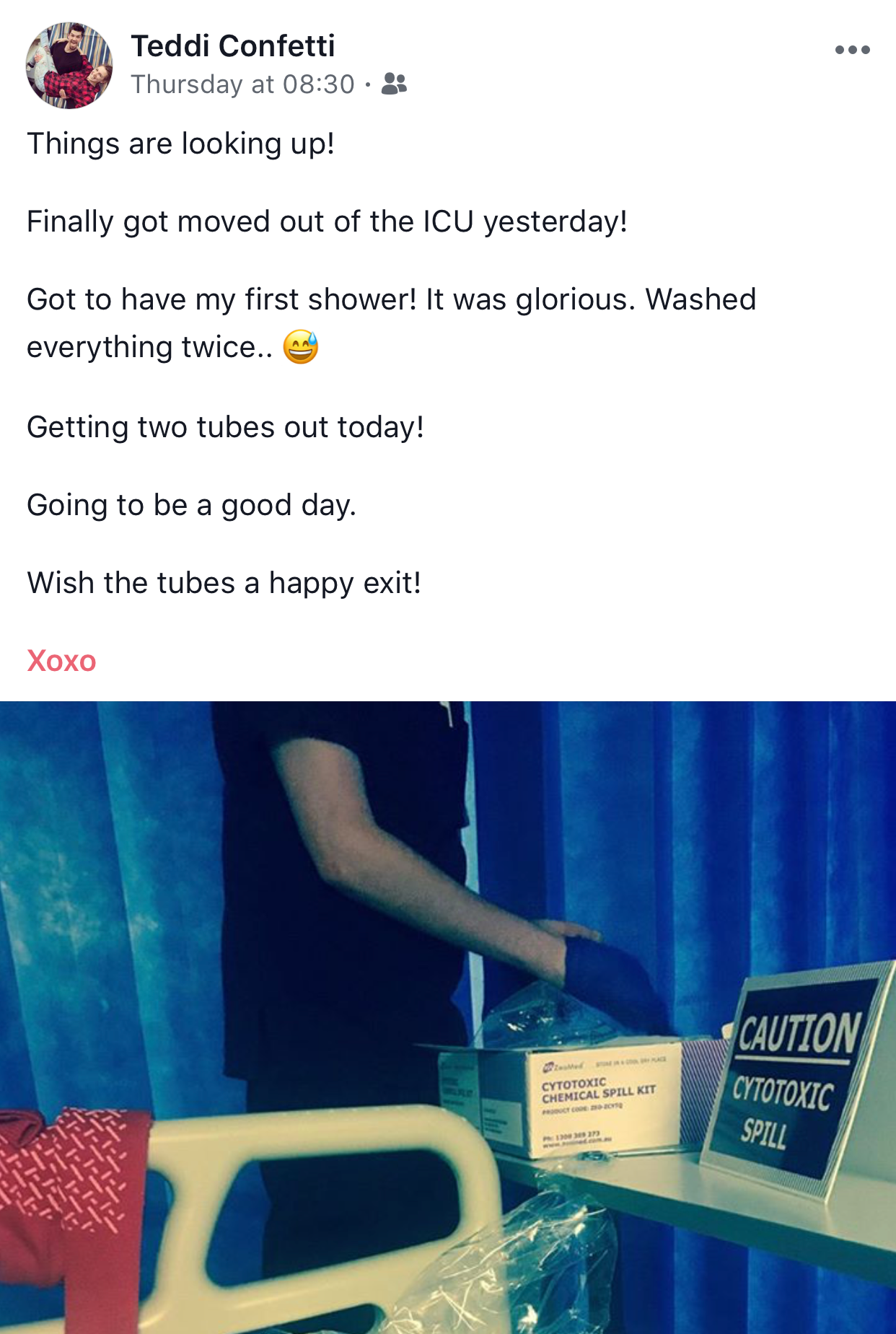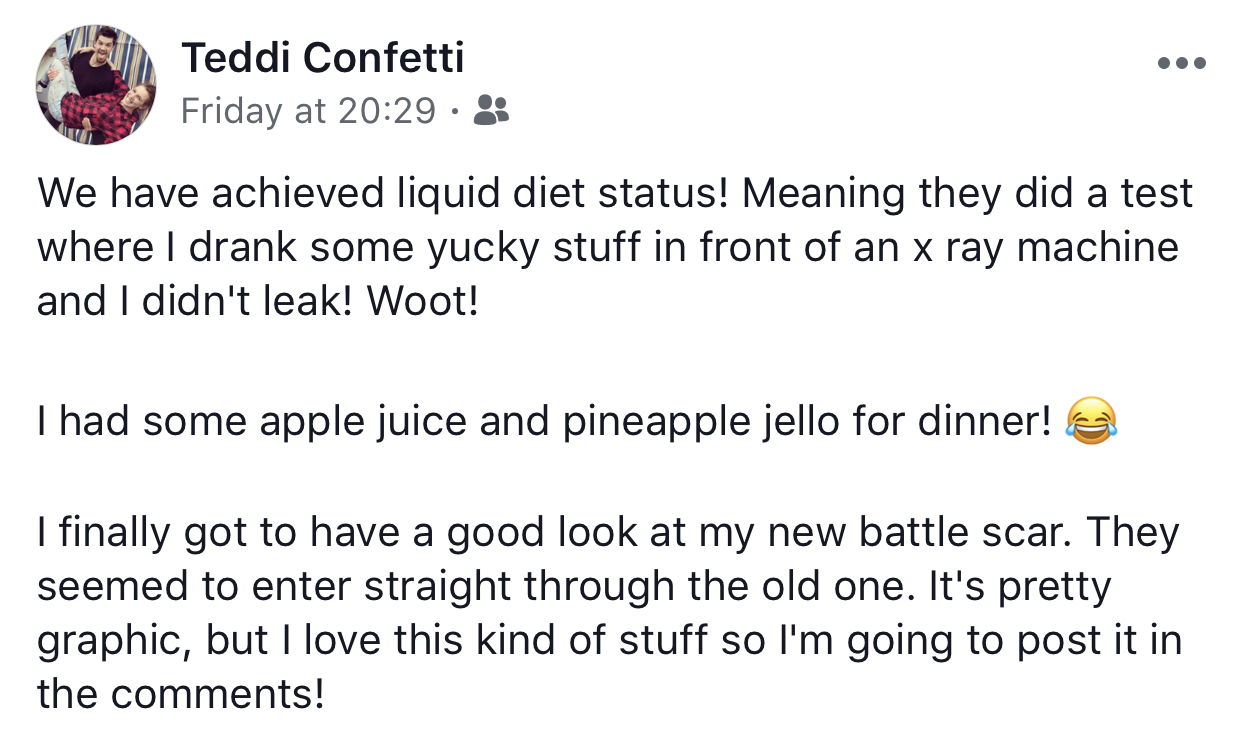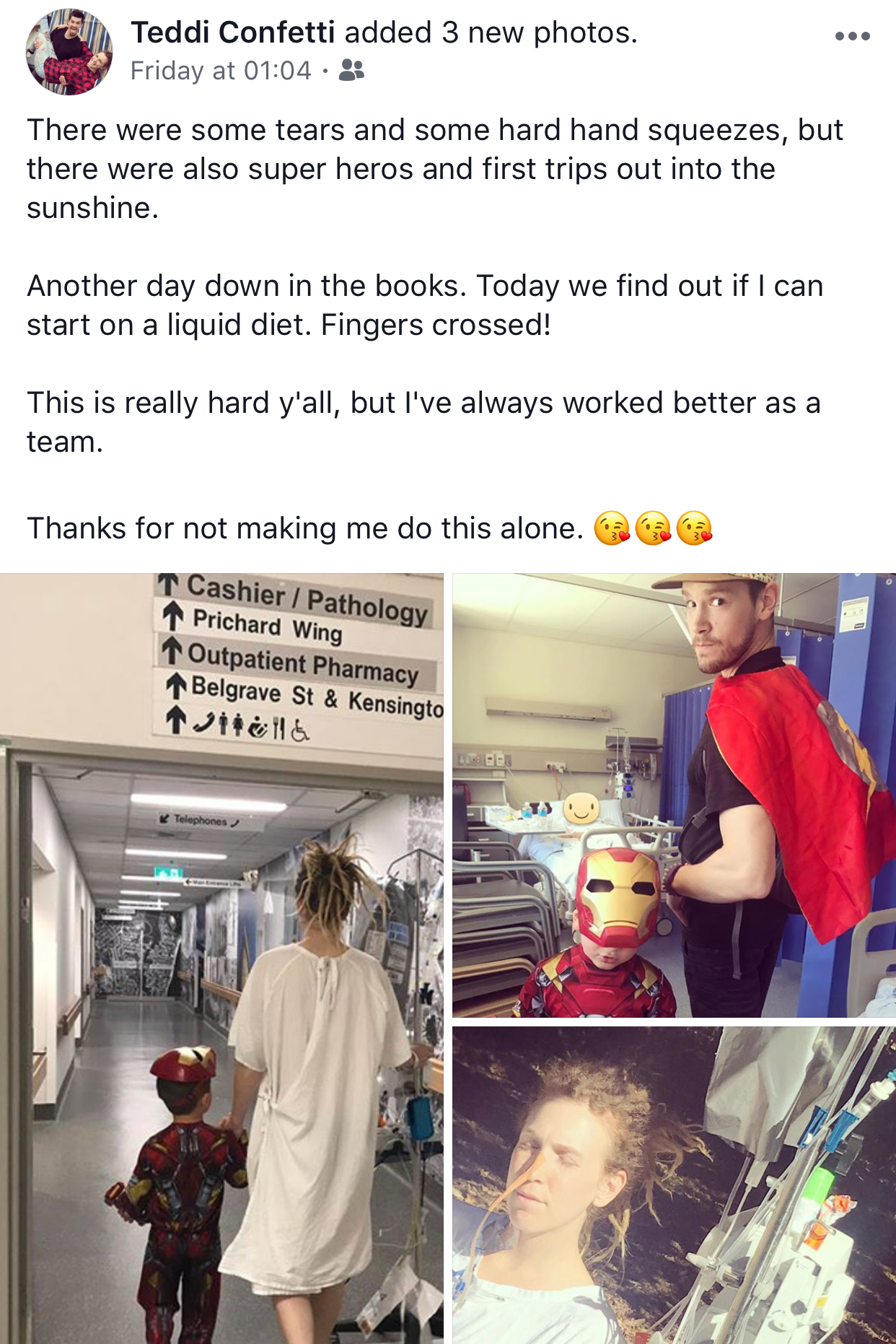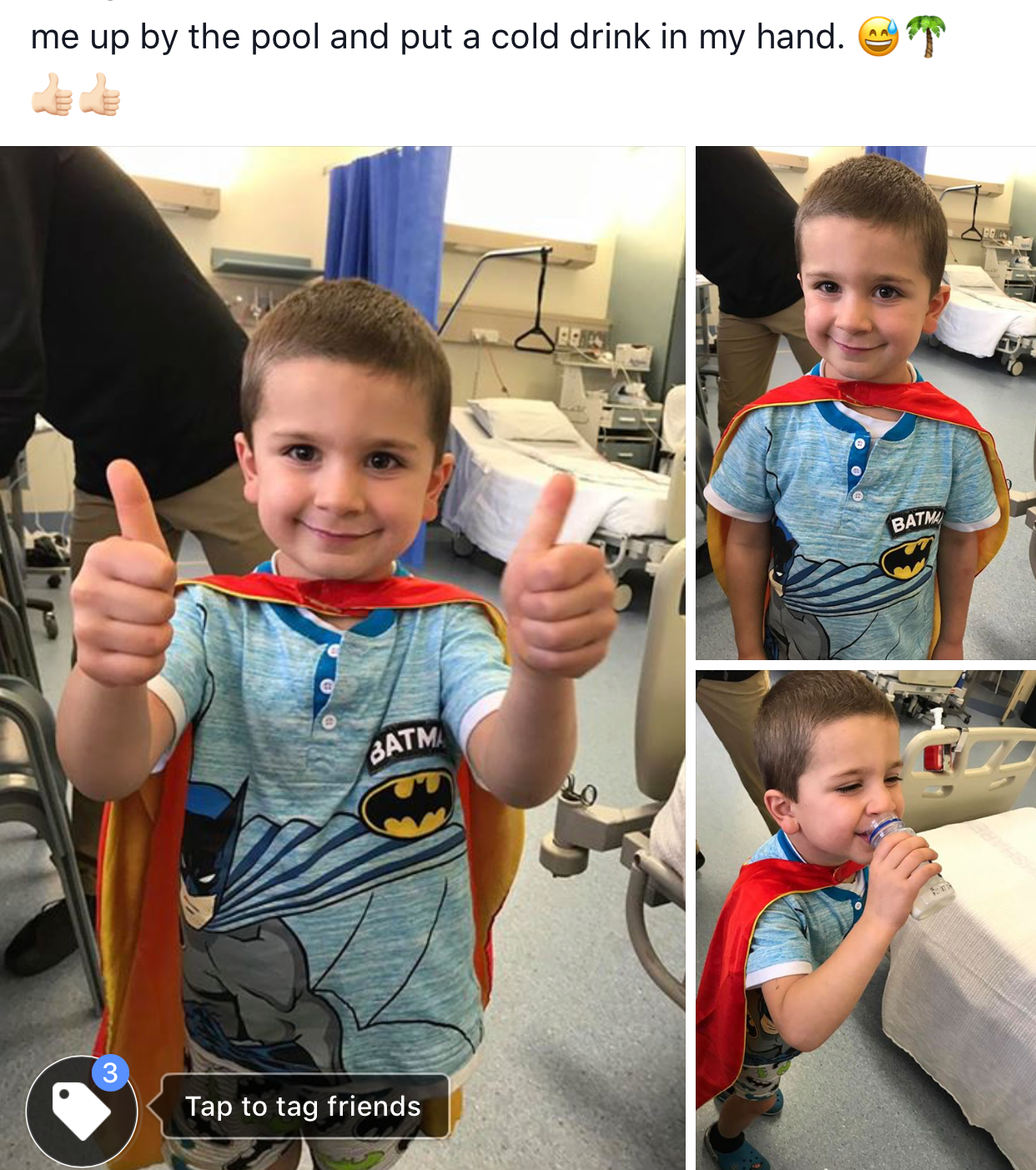 Wyatt and I have been frequenting playgrounds, Macca's and toy stores, including one scream-filled failed attempt to go to the library (trust me, this single-parenting thing has been frustrating and exhausting at times!). Wyatt has been desperate for some socialisation, and thankfully we've been able to find some other kids to play with in various settings over the past few days. These mini-adventures have given me some time to get a few things done at work, which was a relief! This has been quite the mega-interruption to all my #BIGideas as you can imagine!
Looking forward, over the next week, we hope to have Teddi successfully escape the hospital ward. She'll spend time back at Bezzina House (5-7 days) & even start to take some mini-adventures out into the real-world (you know, exciting things, like out to the supermarket!). One step at a time. One day at time. We continue to travel the winding path back towards our version of 'normal'.
Once again, this time in the hospital has Teddi and I thinking a lot about our health, looking into the future and considering how we'll apply our time and energy in pursuit of it. It is honestly quite depressing being around so many sick and unhappy people. At times, strong auras of negativity enter the room and it can be quite overwhelming. While not all illness is within our sphere of control, our attitude/response to life is, and the things we spend our time and energy on are as well. Here we feel reinvigorated to choose positivity & to choose the pursuit of a life full of whole foods, exercise & community. We hope to share some of our thoughts on these things over the coming days!
I'll update you again with news from Week 3!
-Nick-