UPDATED 5:30PM Australian / 2:30AM US Eastern
Well, here we go again. Teddi's surgery day.
At least we have some idea of what to expect this time around, eh?
Throughout the day, I will be updating this blog post so that you all can follow along, as many of you will be quite anxious, I'm sure! Teddi is quite important to all of us, trust me, I totally get it :-) .
We have had a pleasant 48 hours leading up to this moment. On Sunday, Wyatt was dropped off with a family friend (thanks heaps Monica and Stuart!) for the week, and then we road-tripped up to Sydney (without a four-year old in the car - magical!). Yesterday, it was surgery prep day. Teddi was restricted to clear fluids (check out our Phò shots below!) and we spent the day in the hospital meeting with all of the doctors. The most relevant conversations was with one of the surgical team members, who will be in the operating theatre today.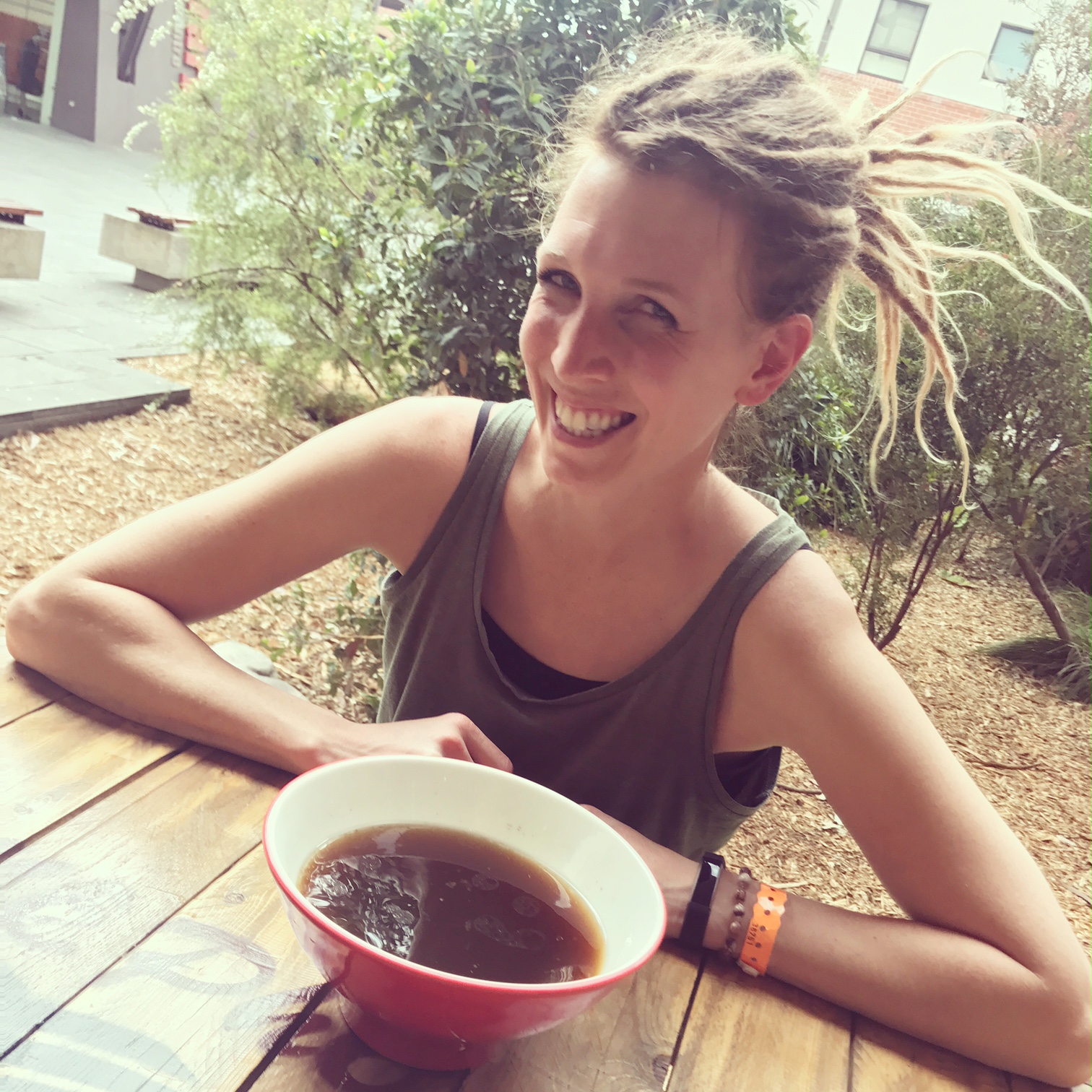 He said, they never completely know what to expect about the extent of the progression of this disease, prior to opening up the patient. This is because it is very difficult to see this type of tumour on CT scans - but we'll have a good idea of 'what's going on' when they give me a call this morning (approximately 10:30AM Australian Eastern Daylight Time). Then, by this late afternoon/evening, we should also know the extent of the surgery required, which will give us a vague idea on how long Teddi will be in hospital (if we can avoid bowel resection, that's a big win!).
Right now, its 5:55AM Australian Eastern Daylight Time, 2:55PM US Eastern. I'll be putting both timestamps on the updates today.
Surgery Day Updates
5:55AM (Australia)/2:55PM (US): Teddi is taking one last shower, and collecting herself for the day ahead. We'll head over to the hospital in one hour to 'check-in' for the big day. I had a good night of rest and am chipper with my morning coffee. I ask Teddi how she feels... "incapable of processing the crazy" - can't blame her! I do know one thing though - she is looking stronger and healthier than last time we did this, and I know we've both built up a toughness that makes us as 'ready' as we can be.
8:20AM (Australia)/5:20PM (US): Teddi has been carted off, once again lookin' fine in her surgical gown and stockings. From memory, this was the hardest part last time around, it didn't disappoint. Such difficult uncertainty and emotional challenge. The moment you've felt fear and anticipation of arrives. So crushingly poignant to watch her be wheeled away. The surgical team was confident and ready to work their magic. I should hear from them in about two hours..
11:00AM (Australia)/8:00PM (US): I have just been updated on Teddi's surgery from the (lovely) peritonectomy nurse Helen. She just called into the O.R. and was informed the procedure is going well, with no complications. At this stage, they are working in Teddi's pelvic region, and are removing the localised tumour material there. After they finish up here, they will move upward towards the diaphragm. This includes the material on the left ovary and in the lower portion of her right pelvis. No word yet on whether the ovary was able to be saved. Her PCI in this region is a 4, indicating there were 1-2 medium size tumours in each of those areas. I've attached a little diagram below to help this make sense. The maximum possible score in the pelvis is 9. They have confirmed she will be undergoing the follow-up chemotherapy, which is also good news.
Estimated Next Update: Early Afternoon (Australia time)
2:35PM (Australia)/11:45PM (US): Another update from Helen. Teddi's surgery is drawing to a close. They have finished the tumour removal/resection process and started her hot-chemo (HIPEC). The report is that there was only a bit more disease on her diaphragm and nowhere else. That's great news - but before we celebrate, let's wait for the "Big Update" from Prof. Morris, which I should get shortly. All looking very good folks! If there is no bowel resection, that should mean a speedier recovery than last time. I should be able to visit my sweet, beautiful wifey around 5-6PM this evening in the ICU. More info soon!
5:30PM Australian / 2:30AM US Eastern: Teddi is now out of surgery! She is also now finished with chemo and headed to the ICU. It was a long day (the looongest day ever!!) and a long operation, with much of the time spent mobilising the scar tissue/adhesions from the last surgery, so as to be very thorough. This thoroughness/exploratory nature of the surgery was done with great attention to detail, so as to catch any of the tumour material. Even after all that work, they only found a small amount of tumour on the diaphragm, with most of the recurrence limited to the uterus and left ovary. Ladies and Gents - This is really positive news overall!
She has had a full hysterectomy and the left ovary has been removed (don't worry, we have 5 embryos stored, thanks to all of your LOVE & support last time!). We knew ahead of time, that this was quite likely, and it is actually good, from a hormone replacement standpoint, for the uterus to be removed along with the left ovary (so says the gynecologist). She has had to have one chest tube this time around, due to the diaphragm scraping. Onto the best news - no bowel resection was required, so hopefully she'll be eating in a few days time. That has a huge influence on recovery times.
Last time, she had a lot of issues with pain management, which we raised with the pain team this time around. Thankfully, they listened and Teddi was given an epidural today. I think this is going to make a BIG difference for her comfort levels. Thanks pain team! We want Teddi drugged up & pain free!
We now expect Teddi to be in the ICU for the next 1-2 days. She is unlikely to be 'extubated' (taken off the ventilator) until tomorrow morning, but I will be off to see her soon anyway. I don't mind a silly tube or wires sticking out - I need to go put some chapstick on those poor dry lips!
I'll let you know how she's looking after I visit.
8:30PM Australian / 5:30AM US Eastern: I just visited with Teddi in the ICU. She was awake and alert. Her pain is under control - a huge win. I was able to communicate the success of the surgery to her, as well as apply that much needed lip balm. She was telling jokes and doing blood pressure math for the ICU nurses, all whom had excellent bedside manner and abundant kindness. Things are good here folks. Thanks for being here for us during this wild ride! I don't know about you, but I am friggin' exhausted and glad this day is over!!
-Nick-